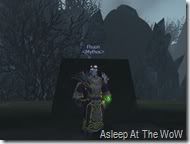 Last night was just bad. We just couldn't do it. Couldn't close the deal. We tried and tried… Bah!
It was decided that we would go to kill Nightbane before proceeding up to the Shade. But, for some reason, it wasn't to be. We did get him down pretty far a few times (had major problems with the adds) but the main tank always bit it somewhere before the end. He would get hit a sickening amount at a time for some reason and there was nothing the 2 shaman and 1 priest (me) could do to keep him up. Maybe we aren't geared up enough.. Maybe we need our druid healer and his HOTs… I don't know. I just know that it was bad.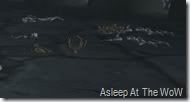 We finally gave up after 2 hours of beating our heads against the crenellations… We gave a try to the Shade. We made it through the trash pretty easily, but after a few tries at the Shade, we gave up. Once again, couldn't seal the deal.
After that, it was late. I was tired. I went to bed.. Sad night.. Expensive repair bill night. Having purples is a win/loss thing.. Ah well.
Tonight is Gruul's though! I'm almost hoping I can just bring Fim. I need a break from Fhuun after last night.
Short Post.. I'm out..