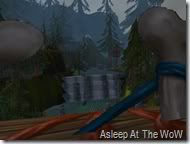 Another day.. Another level…
Monday night, Fhuun got to level 54.. Last night, 55!! I moved on to Burning Steppes last night and ran through the quests there. Already had about 40% xp towards 55, but picked up the rest.
I also picked up a ton of Blackrock Depths quests that I'm gonna try to rope some guildies into running me through 🙂 Should be easy with a couple of 70s… Tank, DPS, Me.. I can heal with shadow spec since they should be taking almost no damage … If not, I can run back and respec.. I DO need to learn how to heal someday.. lol.
Mythos is running Kara starting tonight, so my leveling spree may be at an end for now. We are missing Pil and Kezz for 2 weeks, so I have a feeling I might be helping out. If not, that's okay, I just have to find somewhere to do some quests.. LOL…
Not too much else going on. Haven't been playing with the PS3 or 360 much. I did rent Ninja Gaiden for the PS3 and enjoyed it before I had to return it. Might rent it again some day.
Maybe tomorrow Fhuun will be 56, maybe not.. Stay tuned to find out!!! (ooo.. suspense)…
I'm out..