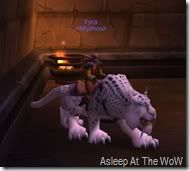 Nope.. No actual "problems". But very good news! Fyra reached level 40 and you know what that means!! Yes.. another 20% increase in travel speed over the Travel Form 🙂
She got the spotted cat. I figured it somewhat matched the Travel Form. I like it. I was debating getting it, but it really isn't very expensive considering my main can generate that kind of gold in one night if I put my mind to it. My bank has enough greens and blues that I could vendor them all to get the money if necessary (They are being saved for disenchant.. some day).
She also went and picked up her presents from under the tree for Winter Veil. Unlink Fim, she got the Snowman companion. He's cute, but he doesn't move.. Kinda disappointing.
Didn't do much other than work on the Alt's last night. Mythos went into Kara (a day late, not sure if it was a dollar short 😀 ).. I am soo ready to get these alts into Outland.. I really like the quest structure there so much better than Azeroth. I'm hoping that WotLK will be similar (or better) in quest structure. She went back to STV to work on the higher level quests there after finishing up most of the Dustwallow Marsh quest lines that they just added.
Tonight might be some more alting.. 🙂 Saturday, I won't be playing and I doubt I will blog until at least Monday. But if I don't I'd like to wish everyone a safe and happy New Year! The year of WotLK 😀 lOl…
Talk to u all soon.