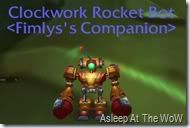 Picked up my presents for Winter's Veil from Ironforge..
The Clockwork Bot is pretty cool, if I do say so myself.
Last night we also did some runs to get people's alts key frags.. I helped out with SV and ARC.
Earlier I had been working on Fyra and Fhuun. Fyra was doing all the new quests in Dustwallow Marsh. They are much more
like the outland quests than the old Azeroth quests. Hope this trend continues. I like having quests be close by and not requiring too much "fedex"ing.
Not sure what I am going to do tonight.. Probably more leveling of Fyra and Fhuun. I keep switching back to Fhuun because I used up Fyra's rest XP. The new higher quest XP is reallllly nice though.
Guild might go into Kara, but they have been bringing alt hunters in now and things are still going okay and I'm pretty much as geared as I am going to be from there. I have 71 badges sitting around also and so don't really need them just yet.
Ah well. That's all I have for today. Hope your holidays (if you celebrated) were good ones and much luck online! 🙂