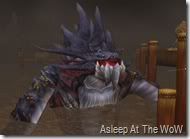 Went to see Beowulf in 3D last night, so didn't get to do much more than login for a quick "hello all".
I'm not sure what the raiding schedule looks like now for Mythos. If we head into kara tonight, it is my week. 🙂 I know we have lots of others who we need to gear up though, so I won't be too disappointed if there is no spot for tonight.
I need to start working on my alts more.. I said I would after the patch, but it has been a hectic few weeks and I was enjoying running the daily heroic quests. Fhuun is 45 (I think) and the others are not moving very fast.. Maybe I'll work on my Druid and get her to 35.. Then she can upgrade her Alchemy skillz. Better pots are nothing to sneeze at… 🙂
If I could up my Rogue to 35, I could start disenchanting some of the higher level greens and blues I have sitting in my bank.. It would be nice to be able to do that myself.. Then sell the mats… They sell for more (and more reliably) than the actual items now.
Ah well.. That's it since I haven't played much since I got back.. Tonight should be different 🙂
Later all.