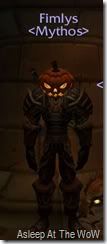 Last night felt like a broken record…. I joined Kezz, Pil and 2 other guildies to fight the headless horseman… Over and Over and Over and Over again.. It was fun though.. somewhat mindless, but fun.. I got the DPS ring and the faster ground broom and some other crap.. 🙂
We had fun with the pumpkin head thingies.. And the tricky treats. The helmet never dropped.. Ah well.. We did discover that generally you can redo the summoning every hour. But then something got bugged and nobody could start it so we quit.. Not before running it about 8 or 9 times though.
It's Tuesday, so it's a non-kara day.. Not sure at this point what we'll be up to. Might work on leveling Fhuun.. Might work on Frannk. I dunno.. Too many decisions to make.. 🙂 Still have Team Fortress 2 I play some and other games. There are so many new console games coming out over the next few weeks/months that I don't know when I will have time to play them.. ARG! Such a dilemma!!! 🙂
Well, I'll catch you tomorrow.. Later..