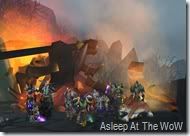 Last night consisted of a couple of different WoW events.  Starting the evening with Fhuun, I got him up to level 41. He is currently hanging out in the Hinterlands.  I think the quests are kinda high level, but he seems to be able to complete them just fine.  I like being in a different area for a while.  Gettnig tired of stranglethorn.  If anyone has any suggestions for good lvl 40+ areas, let me know.

Then I was invited to join the end of the Guilds Kara run for this week.. All that was left was Nightbane and after a few false starts, we got in the groove and gave him the smackdown!  We had 3 Druids (one was tank, 2 were healing), 2 Paladins (1 Tank, 1 Healing), 2 Hunters (both DPS 🙂 ), 1 Shadow Priest, 1 Rogue and 1 Warlock.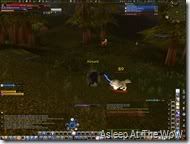 Not too shabby considering it was the first time the guild took this puppy down..  We were very proud.  We can now say that Mythos has successfully cleared Kara.  Go us!  On a sad note, one of our Paladins who was an integral part of our main Raiding party decided to move on from the guild.  We will all miss him very much and hope he finds what he is looking for 🙂
After taking down Nightbane, Kezz, Pil and I got on our 13+ toons and ran willynilly around the Draenei starting areas!  It was loads of fun..  I got Frannk up to level 15 (I think).  He is really getting up there. It is amazing how much easier some of these quests are when you have 2 others to help.