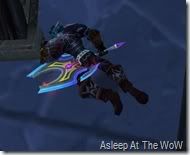 While other blogs and such have this information, I figured I would copy it here for any other hunters that come along.
I pulled this from Mania's Arcania .  Thanks for the info.. (Even left in the pet info links that were put in…)
Highlights:
Voice chat, plus a new chat channel UI.
The Mac client can now capture in-game video to QuickTime movie files.
AFK debuff in battlegrounds.
Hunter & Pet Items:
General:
Pets are now affected by Paladin greater blessings.
Kill Triggered Effects: Effects that trigger from killing your target will no longer trigger from killing your pet.
Cyclone: Paladin Auras, Trueshot Aura, and Aspect of the Pack will now be automatically reactivated when Cyclone wears off of a victim who had one of the abilities active.
Hunters:
Aspect of the Cheetah: This ability will now cause Hunters to become dazed when struck while sitting.
Aspect of the Pack: This ability will now cause party members to become dazed when struck while sitting.
Aspect of the Viper: This ability has received a slight redesign. The amount of mana regained will increase as the Hunter's percentage of mana remaining decreases. At about 60% mana, it is equivalent to the previous version of Aspect of the Viper. Below that margin, it is better (up to twice as much mana as the old version); while above that margin, it will be less effective. The mana regained never drops below 10% of intellect every 5 sec. or goes above 50% of intellect every 5 sec.
Freezing Trap and Scare Beast duration against PvP targets has been reduced to 10 seconds.
Hunter's Mark: The duration remaining graphic will now display properly for Hunter's Mark after it has been refreshed on a target, and will properly consume mana when recasting it to refresh its duration.
Kill Command will not charge the hunter mana if their pet is on passive.
Kill Command no longer affects the Hunter's current target.
Misdirection: Items used while Misdirection is active will now consume a charge correctly.
Steady Shot: The tooltip stating the percentage of Attack Power gained by Steady Shot was inaccurate and has been corrected. The damage remains unchanged.
Volley: This spell is now affected by area damage caps. Its bonus damage coefficients have also been increased. It also correctly consumes charges of Misdirection.
Hunter Pets

Raptors can now learn Dash.
Items:
Formula: Enchant Gloves – Superior Agility: This enchanting recipe is now available from the Keepers of Time Quartermaster. The reagents required have been adjusted to match the level 70 content.
Formula: Enchant Weapon – Greater Agility: This enchanting recipe is now available from the Violet Eye vendor.
Leggings of Beast Mastery: The stamina and armor granted by this item for your pet have been increased.
Rift Stalker Armor: The pet healing set bonus now heals for a percentage of damage dealt by the Hunter.
Trappings of the Unseen Path Set: The buff on your pet from this set bonus will no longer appear to be constantly running out and refreshing.
World Environment:
Arcane Missiles: When cast by creatures, this spell will now properly cause activation of pets set to defensive mode.
Skettis Windwalker: The Cyclone effect from this creature can now be cleared by PvP trinkets and Bestial Wrath/The Beast Within.
Void Reaver: The Arcane Orb ability used by this creature will now correctly Daze players affected by Aspect of the Pack or Aspect of the Cheetah.
Bug Fixes
Pets will no longer chase players that Vanish.
Pets no longer follow enemies after being revived.
In addition, we also know from the Public Test Realm that there are at least a few other important hunter pet changes:
Nethermine Ravagers can now be tamed.
Scorpid Poison Rank 5 has changed slightly, and Scorpid Poison in general now benefits from the hunter's Ranged Attack Power at a much lower scale.
Dismiss taming, in which you could merely dismiss a current pet to tame a new one instead of abandoning it, no longer functions.