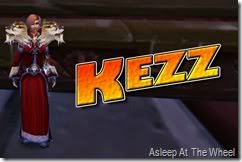 Ok.. Kezz doesn't like her current shoulders, so I took the liberty of replacing them for her… Whadda Ya think?
Last night was a pretty quiet night. We wanted to get back into kara and finish up the last 2 bosses we had left (Illhoof and Nightbane) but we couldn't get enough people on to get it started.
Instead I worked on leveling Fhuun. I got him up to Lvl 38 1/2 (with kezz and another's help). We got a lot of the higher level quests in STV done. I'm looking forward to getting my mount.. I can't wait!
FYI, the little Draenei we are leveling are up to level 13. We didn't work on them because Bligh was busy helping attune some guildies alts.
The following picture was donated by Kezz. She took it when her video was starting to get all wonky a while back. Pretty cool, I think.. 🙂