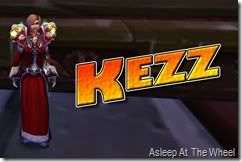 Ok.. I really don't remember when we did all this stuff, but here is everything that happened over the weekend… I think.. (I've been taking notes, but been too busy to actually form a post.. )
We 1 shot the Curator. We are getting better at that but we had our uber DPS team in place 🙂
We moved up through the trash on the way to the Shade and then, just when we were getting ready to head on in and kick his @$$…. Someone got a little too close and, while we were all still outside the door.. He started attacking! He would wade through the door out to us and attack sometimes, but others he just shot people through the door. I immediately Feigned Death.. (WOOT) and thankfully survived.. Not so happy for everyone else though.. (No, I was not the one who got too close.. I was sitting outside the door..)
After that we took a few shots at him (this time for real) and took him down after a few (I don't remember how many). I DO remember that I got the "Killing Blow"!.. You know what that means? I didn't die! Wow! Finally! Haha…
We moved on to the Chess event and that went pretty much as usual. Nothing particularly great dropped [for me anyway] (I already have my boots, so maybe I just wasn't paying much attention).
We moved back to Netherspite and took him down in a few tries. I really like the strategy of having a Warlock to take the blue beam for the whole round. It works really well. I think I was dead when they killed him, but I guess beggars can't be choosers. I don't think he dropped anything for me either…
We were still up for more, sitting on a "killing high" and thus moved up to the Prince for a few smacks at him. 1, 2 buckle my shoe and … Blammo! He was down… 2 tries.. Not too shabby. First time an infernal smacked down right between us and the tank (and prince) just after he started whaling on the tank… Bad timing! And look! He dropped our Helm tier-4 piece! Wooo… Lets roll… Uh… is that a 9? A 9? !!!!! ARGH! Didn't win (no duh).
In other interesting news. One of my fellow Guildies is coming to my neck of the woods for vacation. We might meet up, we might not. He said they were pretty booked and it looked like they might not have any time. I understand.. Vacations can be like that. Sometimes I need a vacation from my vacation!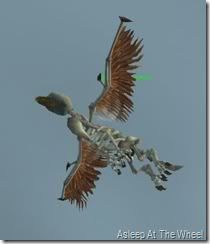 Worked some more on Fhuun (my priest) but still haven't gotten him to 38. He is very close though! Still can't wait until 40… Mount it up! Woot.
With Kezz and Pil, I started leveling my Draenei Warrior Frannk again (he was level 10). They had two lvl 7 chars (Priest and Shaman) and we decided to try to level them all together. We had a lot of fun and although I don't remember what level we stopped at, we had basically just moved into bloodmyst (I think that is the name).
I guess that is it for my WoW adventures. I also played some Guild Wars this weekend. I've almost got my "main" character to level 20. I play that game way to casually. I also find it very difficult to come back to because I forgot what all the skills do. It is very difficult to select a subset to take with you when you can't remember what they do (or how good they are). Ah well.
I'll talk to you all later.!