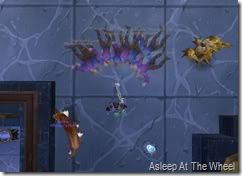 Welcome to another installment of.. As the WoW Turns! uh…
I keep writing. Is anyone listening? 🙂
Eh.. What do I care?
Last night the guild had some issues getting the kara group going. Nothing very dramatic other than "Where is [the Raid Leader]?" and "Should we start invites?". Raid leader didn't show up so the GL took the reigns and got us going. I was asked to join and we went in to take over from where the group the other night got to (Moroes). Generally we had our regular crew, but we were a little mixed up on the alts (not that I have to personally worry about that).
It unfortunately took quite a while to down Moroes until we finally took him out. Yeah, I was laying down facefirst on the cold stone floor for the latter portion of the fight… Lucky Me.
Moving on to the Maiden we had a quick substitution and brought in an additional hunter! Have you ever seen the like? A 3 Hunter kara raid gorup! It's the end of the world as we know it! Cats & Dogs living together!! Mass Hysteria! We downed the Maiden in one blow 🙂
It was getting late, but we moved on to the Opera event which happened to be Oz this time. Not really remembering exactly what it was we were supposed to do, we still dropped them on the 2nd try. DPS was not an issue. From there it was time to call it a night.
I guess we'll be moving on to the Curator tonight, depending on who it on. I know there are a few that will not be available this weekend (or at least tonight). We'll see what happens. I want to work on Fhuun more (my lvl 37 Draenei Priest).
That's it for this episode of The WoW and The WoWiful. Hope to see you next time!