So, this was MY weekend.. 🙂
It was my weekend to go to Kara. We had some issues on Thursday and Friday with the Shade. We were not our normal group I guess which I think caused some consternation. We tried many times. On Friday we decided to go and do the chess event and give a try at the Prince before our timers were up. We did fine on the Chess event (as usual) and my Fiend Slayer Boots finally dropped. (happy happy)
We had a new strategy for the Prince that we tried and, at the time, we were pretty sure it would work. We tank him over against the rocks straight out from the door (on the right). Just far enough that the healers could still heal the tank and others could run back out of range of the blast if necessary. Also close enough to the doors that most of the infernals tend not to drop between us (which is the most important part). On Friday we still got an infernal dropping down but we did much better than we had before. On what seemed like it might have been the last try for the night (on the prince), we noticed that one of our priests had been DCed during the fight and had gone offline before the end (thus he was not dead). We waited and waited and waited.. Finally he came back on… Alive!!! And we were reborn to fight (and die) again.
On Saturday, we went back in again with some changes to the lineup, but generally the same people. This time (unlike Friday) we had a Warlock again. Taking our first shot at the Shade for the night we really didn't do anything much different than usual. Our off tank was a druid bear this time and that might have made a difference. I think he used his "Battle Rez" to get one of the people that died back up. I died after the polymorph, but the rest (minus 1 or 2 others) made it to the end and took him down. It was very exciting after two days of tries with no successes.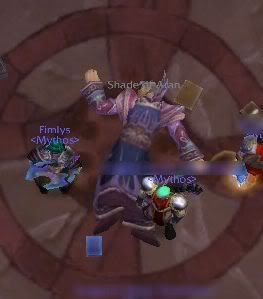 Afterwards, we cleared back up to the Prince and tried out our new strategy and after a few attempts (including one where we got him to 5% and another where he got to about 5k health) HE WENT DOWN!!!! Another milestone for Mythos. It was very exciting. Everyone was hooting and hollering over vent. It was so exciting. Of course, it was pretty late by then and we decided to call it a night.
I'm not yet sure what tonight will bring. We usually take Sun-Tue off from raiding for farming and instancing.
I'm still on the fence if I will play WoW or get back to Bioshock. I'm moving along pretty well in Bioshock and still loving it.
Oh, Saturday night I ran with my laptop. I moved my main keyboard aside and stuck the laptop on the desk in front of me. I hooked up an external USB mouse and my USB headset and everything went great. The widescreen view is especially nice. It is a little lower resolution, but I didn't have any problems.. I'm not sure I will keep using it, but I have my memory coming (hopefully on monday) and maybe that will solve my problems with reboots (I'm not holding my breath..). I'm pretty sure it is probably the motherboard, but I really don't want to go through the process of trying to rip the whole computer apart and put it back together.. (blech)
Okay. I'm done for this update. I'm still not getting much in the way of comments from anyone but Pil (thank you Pil).. I guess people read this stuff but don't have any opinions about it. Do I have any regular readers? I would love to hear from you.. Do you have to register to leave a comment? I didn't think so, but maybe. I could see that keeping people from bothering. Ah well .. I'll keep doing it anyway. I'm sure some of my Guild brothers and sisters are reading though.
I'm outta here.. Speak to you tomorrow (probably)